Keeping Records
When you buy that first record you aren't just saying 'yes' to record collecting, you are also saying 'no' to drugs. You'll never afford both! They should definitely introduce addicts into the wonderful world of record collecting. Growing up in the late 80s, early 90s I am very grateful for discovering records.
I never set out to build a collection as such. My records have always been purchased in order to entertain others primarily and myself as a happy bi-product. With that in mind and the fact that I lugged my crates all over the place lets just say my collection is used. Still in good condition but not many reach the lofty heights of M or NM (mint or near mint).
As I get older I find myself being far more sympathetic to the black stuff and looking after my records by cleaning, handling better, and even using tools such as anti-static guns to help combat noise and excessive dust! Along with my change in attitude, my attention has been drawn to the storage and more protection of records.
Say record storage to any collector 10 years ago you would have instigated a conversation about the number of cubes you have in your Expedit from Ikea. For those that don't know these were the happy accident cubed storage from Ikea. It came in a variety of cube amounts and formats from a single cube to an impressive 25 cube unit in a 5×5 configuration.
A while back Ikea sadly stopped making the Expedit, but fear not this was replaced by the Kallax range, basically Expedit on a diet, with the sides, top and bottom all slightly thinner. Some of the colourways changed also and a few nice additions surfaced.
Whilst this has been to go to for at least 90% of collectors it actually has a few flaws and in my opinion, needs a certain amount of adaption to be useful. No backboard = lack of strength. Records = massive weight. This has to be taken into account when it comes to placement. Also, the cubes are too deep. In fairness, they didn't make these for record collectors, so I am fine with the next hack. I use lengths of 3×2 which are the exact internal width of a cube and I placed these at the back of each cube which in turns prevents the records being pushed too far back.
So there you go the perfect solution for your record collection…or is it? I think not and I've had a few. For me, once a record goes into the rack that's pretty much it for that record. Quite rare that with ever surface again. Sideways storage is OK for audiophiles with a great filing solution (more about that later) whose collection is albums only.
Don't put any 12″ singles in the cubes, you'll never play them again. Having said that, it is vitally important for the health of your records that they are stored vertically, not at a 45-degree angle and definitely not stacked laying down on top of each other. You'll end up with rub-rings (just made that name up, you heard it here first) and other cover damage but more importantly, your once nice flat records now make pretty good fruit bowls! Slight exaggeration maybe but you get the idea.
So if the cubes aren't great (I know I'll get slaughtered for saying that) so what is the solution? Well for the working DJ who needs to identify with the whole cover and needs to access their records quickly and easily it has to be the way of the record shop bins. Even this solution seems to bring about some strange design choices though. Not as simple as it looks this record storage business eh? And we haven't even got into climatic issues.
This style of record storage really works for me and the way I use it is the sleeve never leaves the bin it just sits in place on a 45-degree angle whilst the record is being played. Keeps the record in the same place in the collection and easy to locate for putting the record away after use. Be warned, this can cause a bit of damage to the sleeve though.
So my preferred method for accessing records quickly and regularly is a record shop like rack solution. I also like to turn my sleeves 45 degrees and leave in place. The other thing that was important to me is space between bins, so when you select the record, turn the sleeve it doesn't foul on the bins either side (if that makes sense?). Space is the key, don't try to cram too many bins in or too many records per bin. I had some spare MDF knocking around so put my plan to the test. Turned out nicely.
That was never going to be the end of it! I wanted most of my records behind the decks so I abandoned the record shop rack solution (from behind the decks at least) and thought I'd finally sort out my vinyl and categorise and have the perfect library of music! Who was I trying to kid! Number one, there isn't a perfect solution. Number two it takes huge discipline to maintain the system, from keeping records where they belong to categorising and storing new ones! I'm starting to think i need a simpler habit, I mean hobby!
What? There's another Ikea way?
In the wonderful world of Ikea hacks, I haven't seen anyone employ the Besta range before! Now, I don't do things by halves so instead of buying one, testing it out etc etc., I went all in and customised it to fit my studio. Pretty pleased with the solution. I've been asked by many who did the install etc etc., and I was holding off telling them it is a simple solution made from inexpensive Besta units and some wardrobe sides I ripped trims from with a circular saw. Feel free to ask questions.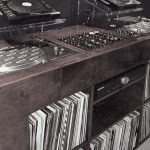 At idokodo we have done a few custom solutions requested by clients but secretly we've been planning what we consider the ultimate flexible solution that solves ALL the issues and one I haven't even spoken about (I'll keep that under my hat for now!).
Well I hope you've enjoyed this article and throw together of sevearl ideas and solutions I have messed around with over the last few years. If you have any comments, ideas and suggestions please comment below and as ever, please like share and subscribe to all the channels to be kept in the loop with new articles and upcoming developments.
Yes, it is safe to say me and Kallax have history! Here I built my DJ Booth around the measurements of this Kallax layout. With a little persuasion, they fitted like a glove….A tight glove, but a glove all the same.
And now for something completely different…
Dubbed the IceBox this is a cool little addition to the idokodo desk we produce (lighting not provided). Useful temporary storage for your live crate.
Other ideas I've explored…
Not storage, more display, but album art deserves to see the light of day from time to time, and you can always change it to keep things fresh.
A lovely little rack, ideal for quick access to a small collection or your favourite listening albums.
This is a great option not only to keep control of your 45s (7 inches). Ideal for transportation and static daily use operation. The box also seals very well so excellent long term storage and protection from the elements. The box in the image is a Really Useful Storage 9L XL box and a good price at £7.99. I ordered eight of them now my little records are happy again. Other sixes and lid configurations are available included good 12″ options.
Are you QR savvy, this if for you: