The RDM40 Has Landed
We, at WAXWRX were really excited to hear the announcement of a new inter-galactic mission from the crew at Varia Instruments. It's always amazing and inspiring to see dreams coming to life in challenging and demanding times. I personally was more than happy to play a very small part in their first mission in the form of buying their wonderful RDM20 Rotary Mixer and accessories (which I'll come to shortly).
Meet the guys behind these lovely pieces of audio equipment – Simon & Marcel
Breaking the mold
Rotary mixers came were first prevalent in rack form and consisted of different interconnected elements that each had their role to play such as expanders (eq units), ISOs, and meters. The alternative to this that I believe came after (don't shoot me if I'm wrong) was the advent of the desktop all in one rotary mixer. A great and often compact option often including EQs, meters, and master ISO built-in. Most seemed to follow a fairly conventional rectangular chassis in some form or another. Varia Instruments however must have been watching an old 70s Sci-Fi film or something when the light turned on! I plan to ask this question as to where the idea came from when hopefully interviewing the guys in the coming weeks, but for me, the shape and layout work perfectly. Another fantastic mixer the Isonoe 420 employs angles in their layout which I also find a joy to play on.




Logical steps
Not everyone is a fan of effects or needs send and return capability on their mixer but I am. I loved the RDM20 for its sound, layout, feel, and looks. Yes, yes looks aren't important blah blah blah… Of course, they are otherwise why would we all post pictures of our mixers and setups? So back to the new mission – the RDM40 to me, is a most welcome and very logical evolution. The addition of two extra channels sends per channel and global return makes for a perfect combination. Although a nice layout, the RDM20 was a slightly strange layout that I always thought felt like "how do we fit all this into that rather than here's what we need to add in this order now lets design an optimal chassis. I might be wrong here so apologies if that is not the case and in no way hindered my use of or love of the mixer. The RDM40, however, has a very logical and spacious layout which makes complete sense. The looks are almost identical so it very much is the bigger brother and I love the cool PFL illuminated buttons – very in keeping with the aesthetic, great job!
The baby brother in action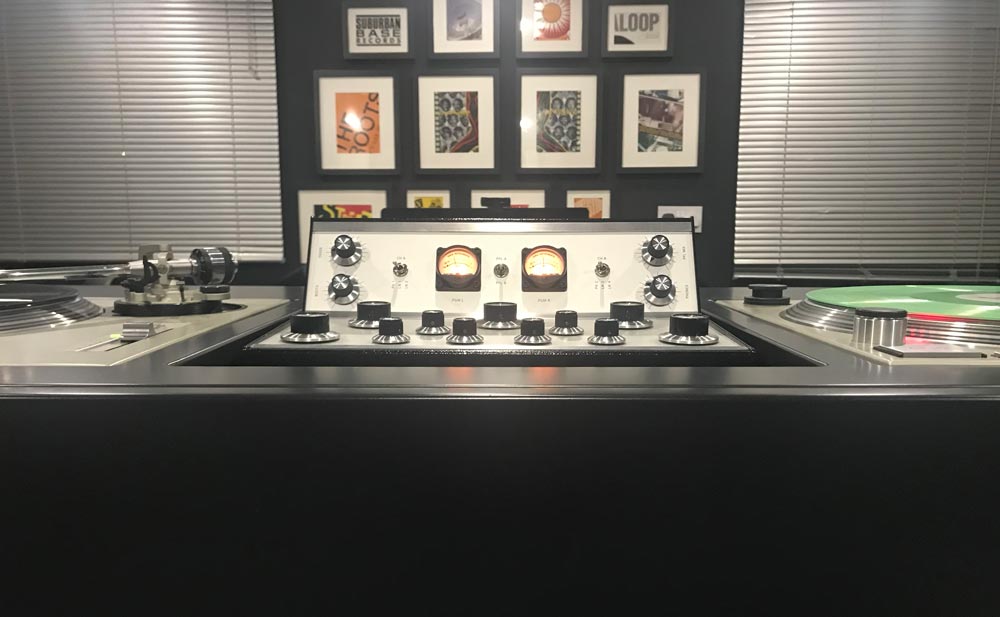 Be part of the crew with your own badge!
For the first 30 bundles sold the guys will provide you with your own mission badge complete with your name and serial number on it! A limited-edition print of and an RDM40 of course!

Get your specs on:
– 4 channels with gain control, send, channel isolator, level
– Channel 1-3 with Phono/Line input, Channel 4 with Line/Mic input
– Signal LED on each channel with Overload indication
– Classic Master Isolator
– Send per channel, global return
– Headphone controls for level and PFL mix/Cue mix
– VU meter indicates PGM (mix bus) or PFL
– Outputs: House (XLR), Booth (Jack) and Record Out (RCA)
– Linear power supply for 115/230V or 100V
And another thing…
Just before I go I wanted to draw your attention to their record weights. I say weights, some of you guys might know them as stabilizers or (wrongly) clamps! The jury is out of the need for these accessories but let me share my experience and usage ideas. The general use for these is to aim at pinning the record down to the platter, thus reducing any space between the record and the platter which in turn delivers a better sound. I am not going to argue the effectiveness of that point and will leave it to the experts. I find them useful for taming and dished (warped) records, weighing down, light grade vinyl that spins a little too freely and use the weight itself to aid in subtle pitch tweaks either speeding up or slowing down. In short, there are several uses in my mind and I haven't even mentioned this weight's party piece! It has a retractable 7 inch adapter built-in for dinged 7″ records! Great little feature on a weight that has been well designed, crafted, and delivered. Grab yours here
PLEASE NOTE: The opinions contained within this article are the expressed personal opinion of the author. WAXWRX has not been remunerated by Varia Instruments for the creation of this article. IMPORTANT: The currency calculator has been placed here for your convenience to provide you with an estimated cost for the products mentioned. Please contact Varia Instruments direct for an accurate price for your Country/Region