Event Navigation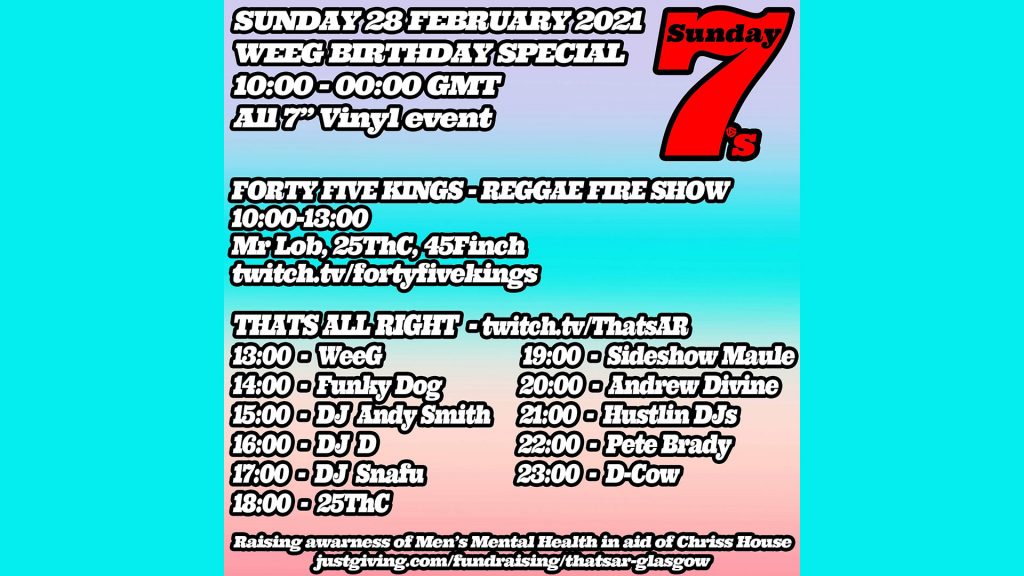 Sunday 7s- That's All Right Special
February 28, 2021 @ 10:00 am

-

11:59 pm

UTC+0
This months That's Allright is a special one. Rob, Criztos and Sideshow Maule, kindly, as its my B/day month, have extended ThatsAR.
Our aim is to raise awareness for Mental Health, especially at these challenging times. Through the love of 45's, played in any style you wish, we try to raise money for Chrisshouse.org in memory of our funk soul brother Dj Andy Taylor.
Thats All Right is a collective, based in Glasgow, of like minded 45/7′ Vinyl lovers…..affiliated with The Forty Five Kings. We play only Vinyl 45's – any genre….any flavour…..any choice.
We collaborate on the last Sunday of Each month to raise awareness through our love of music on the 45 Format for – Mental Health and not never forget our Dj brother in beats and funky treats – Dj Andy Taylor
We appreciate times are tough but any donations would be greatly received. Our chosen charity along with Andy's family to help raise funds is –
www.ChrissHouse.org.
www.justgiving.com/fundraising/thatsar-glasgow
Please help spread the word for a great cause and Get Your Ears Involved –
Mixcloud.com/weeg
Listen/Like/Follow/Share and if poss Donate.
Sunday 7's Line Up
Reggae Fire – 10-1 on twitch.tv/fortyfivekings
Mr Lob
25ThC
45Finch
That's Allright 1pm – 12am on twitch.tv/thatsar
weeG
Funkydog
Dj Andy Smith
Dj D
Dj Snafu
25ThC
Sideshow Maule
Andrew Divine
Hustlin Dj's
Pete Brady
D-Cow
Leave a comment