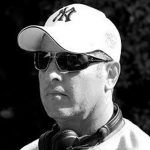 The real wonder from down under, Darren starts off his tenure as the waxwrx™ head honcho of house music, and spreads the waxwrx™ word across the globe.
Darren's experience and knowledge of early disco through to the conception of house music to the present day is rivalled only by a select few. To have Darren on board with waxwrx™ is a great honour as he is also a great friend.
A rare breed who cares as much about the quality of the sound as he does the music itself. The curator of a truly staggering record collection, which has the best cataloguing system ever conceived (more to come in another post) and the skills to expertly select and deliver to the masses.
15 tracks to consider
Check out this journey through the early days of disco, electro-house and clubland classics. A real voyage of discovery, sit back and enjoy!
Quality disco mix from Darren…Enjoy
A little bit of 3 deck action with some nice disco & house in Darren's studio. As always thanks to all of the labels, artists & producers for your lovely work.
Making it Rane!